Red River Gorge Cabins
KY 715 & Rock Bridge Road
Pine Ridge KY. 41360
606-362-6681
www.redrivergorgekycabinrentals.com
---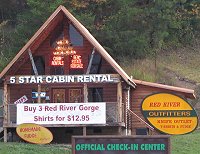 5 Star Cabin Rental
First class cabins for rent in Red River Gorge and Natural Bridge Kentucky areas.
60 Custom built cabins to choose from!
12075 Campton Road
Slade, KY 40376
(606) 663-8858
www.naturalbridgecabinrental.com
---
Cabins of Birch Hollow
Welcome to the Cabins of Birch Hollow
FALL IS HERE!!  Come and enjoy this beautiful season with us at Birch Hollow.  You will enjoy the vibrante colors of autumn while sitting on the deck or inside the cabin next to the fireplace.  We invite you and your family to come and stay at Cabins of Birch and experience a truly remembrance vacation in the mountains of Kentucky.
We have a 3 night minimum stay for Memorial Day, 4th of July, Labor Day, Thanksgiving and New Years.
Due to rough winter season we do recommend 4 wheel drive vehicles to some of the cabins until we get the road repaired later.  Please call for more information.
606-663-0005
www.cabinsofbirchhollow.com
---
Cliff View Resort
Cliff View Resort, located in eastern Kentucky, is situated next to the Red River Gorge and Daniel Boone National Forest.  A luxury hilltop lodge will accommodate family members and friends for a wedding, members of your corporate team, or attendees of a church retreat.
606-668-6222
www.cliffviewresort.com
---

Li'l Abner Motel
We are just minutes from Natural Bridge State Park and the Red River Gorge.
We offer accommodations to meet all your needs.
Large Outdoor Pool • WiFi Connection
Microwave and Refrigerator in every room
Variety of local and popular television channels
Smoking and Non-smoking Rooms upon request
Pet Friendly, with restrictions
Charcoal Grills Available
606-663-5384
www.lilabnermotel.com
---

Natural Bridge Cabin Company
The Natural Bridge CabinCompany has cabins located in the Natural Bridge State Park and Red River Gorge area.
As the largest cabin rental company in the area, we have cabins located next to Natural Bridge State Park, in the Red River Gorge and on Spirit Lake.  We have cabins located in Cave Hollow, along the Red River Gorge National Scenic Byway, near Mill Creek Lake, and within walking distance of the Natural Bridge State Park.
606-663-3700
www.nbcabins.com
---
Red River Adventure
Welcome to River's Roost rental cabin.  The only riverside rental cabin in Kentucky's amazing Red River Gorge.
Right in the heart of the Red River Gorge, it is surrounded by nature's beauty.  Deer, turkey, beaver and river otter are often seen from the cabin deck above the river.
606-663-1012
www.redriveradventure.net
---

Red River Inn
781 Natural Bridge Rd
Slade, KY 40376
606-663-5586
---
Natural Bridge State Resort
Natural Bridge State Resort Park
2135 Natural Bridge Road
Slade, KY 40376-9701
800-325-1710
35 Room Lodge
11 Cottages
87 Campsites
Meeting Rooms
Swimming Pool
Nature Center
www.parks.ky.gov/parks/resortparks/natural-bridge/default.aspx
---
Tecumseh Resort at the Park
Nestled in the pines of the Natural Bridge State Park and Daniel Boone National Forest, the Tecumseh Resort is a perfect setting for your vacation.  Located at the Natural Bridge State Park's Middlefork Campground entrance, minutes from the Red River Gorge, Tecumseh Resort offers Tree House Rental, Cabin Rental, Mini Room Rental and a Kids Kabin boasting an indoor basketball court that is perfect for a family of six to eight or group lodging!
Tecumseh Resort at the Park
3435 Natural Bridge Road
Stanton, Kentucky, 40380
606-663-6379
---
Scenic Cabin Rentals
Rentals Available for 1 to 15
Scenic Lots and Vacation Homes for Sale
606-668-6487
www.sceniccabin.com
---
Red River Gorge Cabin Rentals
606-668-3272
www.redrivergorgecabinrentals.com
---
Hemlock Lodge


(606) 663-2214
parks.ky.gov/parks/resortparks/natural-bridge/default.aspx
---
The Villager


www.sladekentucky.com
---
Log Cabin & Primitive Camp Sites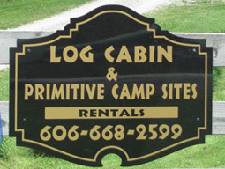 www.sladekentucky.com
---
Star Gap Outdoor Cabin Rental
DirectTV
Refrigerator
Microwave
Coffee Maker
Hot Plate
Toaster
Dishes
Pull-Out Couch Bed
680 Star Gap Road
Stanton KY 40380
606-663-4498 ~ 606-560-1685
stargapoutdoors.com